Chrome ore – we live and breathe it
COFERMIN Chrome offers chrome ore and chromite sand in a wide range of qualities and from a variety of sources. Our partners benefit from approved quality as well as long-standing experience in the sourcing, value-adding and marketing of such high quality raw materials.
Our value-proposition goes beyond our sourcing and distribution networks. If required, our clients and partners can fall back on comprehensive technical support via our expert engineering team. Through many years of hands-on, practical experience gained mainly in the fields of foundries, glass, filler sands and refractory applications, our engineers are able to offer quick and competent assistance towards finding solutions in practice.
The COFERMIN Chrome product portfolio
When it comes to chrome ores we represent your best interest. Through us you find suitable products for a wide range of applications at fair market prices.
We stand for certified quality
Our quality management is ISO 9001 certified and meets even high standards to deliver top results for you.
Here you can find all our current certifications.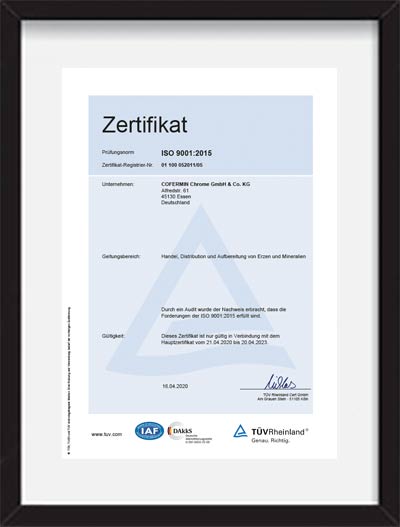 ISO 9001:2015
Certificate Registration no.:
01 100 052011/05
Company:
COFERMIN Chrome GmbH & Co. KG
Alfredstraße 61 | D 45130 Essen
Legal scope:
Trade, distribution and the processing of ores and minerals