We are your reliable partner. Production, handling, packaging, distribution and storage of chemicals- we manage your chemicals supply needs. Our experts have decades of experience in the national and international chemicals business, and welcome the opportunity to advise you personally.
COFERMIN Chemicals is your international, independent chemicals partner, who also engages in strategic market development for internationally renowned producers, in addition to the classic business of chemical trading and distribution. As a global service provider we also take on advisory roles, in order to help our parnters to develop and to realise future-proof concepts in times of fluctuating market conditions and volatility.
The COFERMIN Chemicals product portfolio
When it comes to speciality chemicals we represent your best interest. Through us you find suitable products for a wide range of applications at fair market prices.
Cofermin Nutrition – headquartered in Essen, Germany, we are a leading supplier of high-quality food and feed additives and are experienced in the international distribution of highly specialized products.
We stand for certified quality
Our quality management is ISO 9001, IFS Broker as well as GMP+ certified and meets even high standards to deliver top results for you.
Here you can find all our current certifications.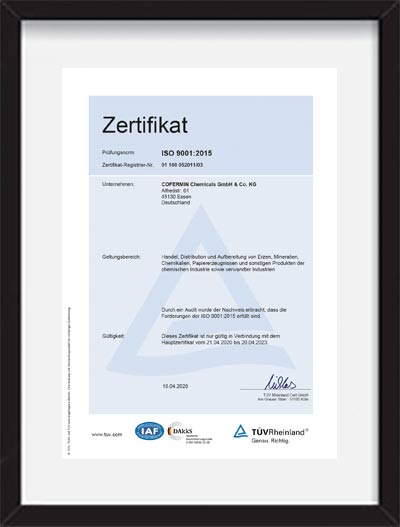 ISO 9001:2015
Certificate Registration no.:
01 100 052011/03
Company:
COFERMIN Chemicals GmbH & Co. KG
Alfredstraße 61 | D 45130 Essen
Legal scope:
Trade, distribution and the processing of chemicals, as well as of other products of the chemical and related industries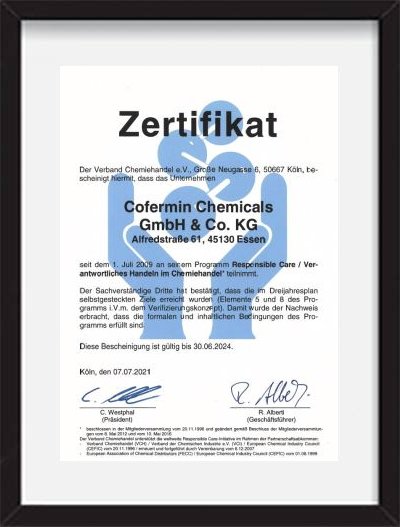 RESPONSIBLE CARE / ACCOUNTABLE CONDUCT IN THE CHEMICAL TRADE
IFS BROKER
Certificate Registration no.:
01 181 1900563
Company:
COFERMIN Chemicals GmbH & Co. KG
Alfredstraße 61 | D 45130 Essen
GMP+ FC SCHEME
Certificate Registration no.:
01 185 1900563
Company:
COFERMIN Chemicals GmbH & Co. KG
Alfredstraße 61 | D 45130 Essen